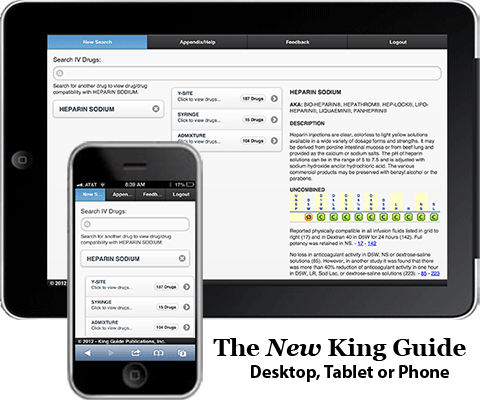 Over 50,000 Pages Viewed Daily
The Standard in Injectable Drug Compatibility Since 1971
The King Guide to Parenteral Admixtures has provided the most up-to-date, complete and innovative injectable drug compatibility and stability information since 1971. As a 'standard' reference in hospital pharmacy worldwide, the King Guide is a proven, authoritative resource for pharmacists, nurses, physicians and other practitioners involved in the preparation and administration of intravenous drugs.
No other IV drug reference has this much to offer:
Published, peer-reviewed information
Original research
Quarterly updates
Over 500 IV drugs in 12 fluids
Over 2600 primary source references
Tried and tested for over 41 years in hospital pharmacies worldwide
Available online, in print, and as wall charts
IJPC Vol.5 No.4 July/August 2001.
Fully Referenced, Peer-Reviewed, Evidence Based
We strive to include in King Guide to Parenteral Admixtures only that information that has been published in refereed journals or information that is provided by the manufacturer. We believe that by using only data that have been reviewed by peers via the professional literature, we insure the accuracy of the content of King Guide. So, for us, unpublished results that have not had the benefit of scholarly review is not adequate for us to use, and in our opinion other references that rely heavily upon unpublished results should give one cause for concern.
Original Research
The King Guide is now funding research for drugs that have been requested by our subscribers, partners, and editorial staff. Prior research studies have chosen drugs based on a variety of criteria but not necessarily drugs that are the most sought after in typical clinical applications.
Now, King Guide not only provides the most complete information possible, but will also provide the information that is most requested by practitioners. No other reference is as responsive to requests or is as advanced in addressing the ever changing technological capabilities for information delivery.
Prevent Medication Errors
The single largest cause of medication errors is incomplete information and potentially the most costly are those involving intravenous drug therapy. Immediate access to accurate, up-to-date, authoritative highly specialized compatibility information is therefore essential if such medication errors are to be avoided.
By providing the King Guide on a variety of media practitioners can quickly lookup compatibility and stability information at any time. Simply put, there is a King Guide for every setting, often for less cost than a single improperly prepared admixture which must be discarded.
Includes information on the routes, dosages, temperatures, and containers used to determine compatibility and stability.

Includes special sections on stability.

Y-Site. Syringe, and other sets/container specific information.

Extensive TPN/TNA data are presented in a format with which comparisons can be made for evaluating the compatibility of similar admixtures.

Compatibility symbols in the "grid" provide at a glance compatibility information for 12 fluids and are explained with the routes, dosages, and temperatures reported to determine compatibility and stability.

The King Guide is also available...